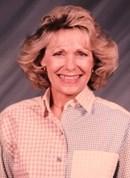 Carol Abernathy Reed, formerly of Kennesaw, Georgia, died after a long struggle with Alzheimer's Disease brought on by Dementia, on December 17, 2016. Born May 17, 1944, in Prattville, Alabama, she was a native of Montgomery, Alabama, and was the daughter of the late William Berry Strock Abernathy and Alma Wainwright Mears and step-daughter to Luther M Mears.
For many years Carol was a special education teacher at Manchester and Monacan High Schools in Midlothian, Virginia then later at Awtrey Middle School in Kennesaw, Georgia. Before Carol gave her education services, she was a stay-at-home mother to her two children. She loved to dance, play golf, loved decorating, loved music, enjoyed traveling, and spending time with her family.
Carol is survived by her husband, Glen Barry Reed, Sr. of Kennesaw, Georgia, her daughter Paige Reed Prosser of Dallas, Georgia, and her son Glen Barry Reed, Jr. of St. Louis, Missouri, and her beloved dachshund, Pixie. Her grandchildren are Brooke Reed Prosser of Dallas, Georgia, and Bethany Anne Reed, Rebecca Merritt Reed, Nathaniel Barry Reed, Joshua Noah Reed, and Samuel Ian Reed, all of Lake St. Louis, Missouri. Carol was preceded in death by her sister Ruby Faye Downey of Montgomery, Alabama, and is survived by her sister Alberta A. French of Simsboro, Louisiana, and is also survived by her sister-in-law, Marion Holly Reed of Athens, Georgia. Carol is also survived by many nieces, nephews, great nieces and nephews and great-great-nieces and a nephew and a great-great-nephew soon to be born.
A memorial service for family and friends will be held on Friday, December 23, 2016, at 2 p.m. at Leak-Memory Chapel at 945 Lincoln Road, Montgomery, Alabama 36109. Following the memorial service Family will be invited for a graveside service at Greenwood Cemetery at 909 Lincoln Rd., Montgomery, Alabama 36109. In lieu of flowers, the family requests donations to the Montgomery and Atlanta Humane Society or their local chapter of the Alzheimer's Association.
Published in the Montgomery Advertiser on Dec. 22, 2016.