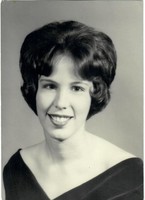 Myra "Bunny" Lewis Daniel, 73, of Fredericksburg, Virginia, passed away at Mary Washington Hospital in Fredericksburg, Virginia, on November 11, 2017, from complications of Parkinson's disease. She was born on July 11, 1944, in Birmingham, Alabama to the late Mr. Herbert James Lewis, Jr. and Mrs. Myra Koenig Lewis.
She is survived by her loving husband, USAF Retired Colonel Terry A. (Ted) Daniel); her eldest daughter Myra Leigh (Tom) Pappalardo, her daughter Kimberly Anne (Bill) Torpey, her only brother Herbert James Lewis III (Becky), and her four beautiful grandchildren Daniel (14), Sarah (12), Abigail (10) and Brynn (8). She is also survived by many loving brothers in law and sisters in law, nieces and nephews, and several great-nieces and nephews.
A local memorial service will be held at 1:00 pm on Friday, November 17, 2017, at Adams-Green Funeral Home in Herndon, Virginia. Myra's final resting place will be among the peaceful scenery at Arlington National Cemetery. A "Celebration of Life" will be held at a future date in her hometown of Montgomery, Alabama.
To honor Myra's life and legacy, the family suggests memorial contributions to two organizations that represent her spirit.

As an adoptive owner of multiple rescue pets, Myra always believed in the tenet that every life is worthy of protection.

For that reason, the family has chosen:
The Fredericksburg SPCA
a no-kill humane animal shelter.

Myra was proud of her ancestry and passionately involved in documenting her family's history for future generations. She and her brother uncovered countless family connections through papers and documents discovered at the Alabama Department of Archives and History.

Memorial contributions may be sent to the:
Friends of the Alabama Archives and History
624 Washington Ave
Montgomery Alabama 36130
Email condolences may be made and a full obituary may be seen at adamsgreen.com.
Published in the Montgomery Advertiser on Nov. 15, 2017.