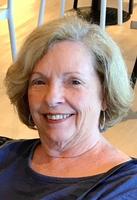 January 28, 1944 - March 9, 2023
Carolyn Gomillion Mathews, the longtime and beloved member of the Auburn family, passed away peacefully at Bethany House on March 9, at the age of 79.
Carolyn was born on January 28, 1944, in Tyler, Texas, to the late Ingram Moyer Gomillion and Margaret Haley Ector Gomillion. She spent her childhood in Montgomery, where she graduated from Sidney Lanier High School, then attended Birmingham Southern College, where she graduated cum laude with a B.A. in history in 1966. That same year, she married Dr. Jim Mathews and the pair spent the next 57 years together.
Carolyn and Jim moved to Auburn in 1974 with their two young daughters and made a life together that was rooted in their love for Auburn University and the city of Auburn and its residents. Carolyn was a tireless volunteer and public servant, active in church, civic, and community activities. She served many years on both the Auburn City Council and the Auburn City School Board, often referred to as a voice of reason on important issues facing our community. After earning her master's degree at Auburn, she taught in the AU Department of Kinesiology (formerly Health and Human Performance) for 12 years. She used her experience and knowledge to start the Cardiac Rehabilitation Program at East Alabama Medical Center, a program that has helped better countless lives in the past 30 years.
When not working or volunteering in the community, Carolyn and Jim followed their shared passion for Auburn University athletics, supporting a wide range of different sports teams on the Plains. Carolyn is fondly remembered by countless former Auburn student-athletes as their teacher, their mentor and their biggest fan. She and Jim also enjoyed traveling the world together, reading good books, and spending time at the beach.
Carolyn was preceded in death by her father and mother; and by her brother, Ingram Moyer Gomillion Jr. She is survived by her husband, Jim; sister, Margaret "Peggy" Walker (Larry); daughters, Sharry Mathews and Susan Lindblom (Tim); and grandchildren, Ethan Lindblom and Julia Abbasi.
The family would like to thank the doctors, nurses and caregivers at the Spencer Cancer Center and Bethany House for their amazing care and support.
A memorial service for family and friends will be held at Auburn United Methodist Church at 1 p.m., Wednesday, March 15, with senior pastor, Dr. Cory Smith officiating.
The family requests that memorial contributions to be sent to the Community Market of East Alabama at 3810-C Pepperell Pkwy, Opelika, AL, 36801, or to the Hospice Angels Foundation at Bethany House, 1171 Gatewood Drive, Building 1, Auburn, AL, 36830.
Published by The Opelika-Auburn News on Mar. 12, 2023.
https://www.legacy.com/us/obituaries/oanow/name/carolyn-mathews-obituary?id=50044064