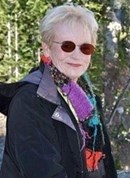 It is with heavy hearts that we announce the passing of our beloved Mother and Mimi, Priscilla Farmer Sutton. Heaven gained our biggest Angel on Monday, October 16, 2017, after complications from a brief and unexpected illness.
She leaves behind her son, Brett Sutton (spouse, Pam Sutton); daughter, Christie Davis (spouse, Scott Davis); 5 adoring grandchildren, Allie, Ansley, Austin, Alex, and Ann Charles; sisters, Betty Brown and Juanita Farmer; and sister-in-law, Denise Farmer. She was preceded in death by her husband, Mickey Sutton; parents, Hubbard and Jetty Pearl Farmer; brother, James Farmer; and brother-in-law, Melvin Brown.
Words cannot express the sense of loss our family is experiencing right now. She was the center of our universe. We appreciate the overwhelming outpouring of love and support we have received. She was loved by all who knew her. She had a gardener's green thumb and a healer's touch. She made flowers bloom beautiful and people's lives richer. She always had the prettiest yard in any neighborhood and always the warmest home. Thank you for making all of our lives so full. You will live on in our hearts forever.
Pastors Dr. Mike King and Alan Jones will be officiating the memorial service which will be held this Friday, October 20, 2017, at First Baptist Church, 301 South 8th Street, Opelika, Alabama. The visitation will be held from 1 - 2:00 p.m. with the service following at 2:00 p.m. The family requests no flowers.
Memorials may be given to:
Tallapoosa Girls Ranch
174 Samford Drive
Camp Hill AL 36850
Jeffcoat-Trant Funeral Home directing. www.jeffcoattrant.com
Published in the Montgomery Advertiser from Oct. 18 to Oct. 19, 2017.