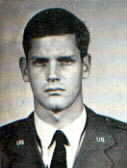 It has been reported that Steve died serving his country as an Air Force pilot during the Vietnam era. His brother Sam was declared missing in action in 1968. Sam's name is listed on the Viet Nam Memorial but Steve's is not. We have not validated Steve's death but have been told that he was involved in a mid-air collision. Their Dad made General just before Steve died.
Updated 2018-03-14:

From: Steve Wibaldie
For Class Year: 1962

Steve is not listed on the Vietnam Memorial because he did not die in Vietnam. On 27 September 1971 Steve Deichelmann and Mark W Rogers were killed in a mid-air collision on the Nellis Range near Delamar, NV.

Steve was flying front seat in F4E 68-0492 and during a [four versus two] training mission collided with F4E 67-0318. Both pilots were killed and both back seaters survived.

I have the safety board report for the mishap and have found both crash sites. I think a lot of people mistakenly believe he was killed in Vietnam because he had previously been in Vietnam and it was during the Vietnam era.