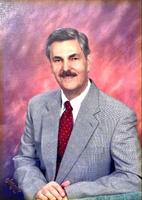 Lee Tyrone Colley of Hoover, Alabama passed away after an extended illness on April 18, 2021. Tyrone was born January 23, 1944 in Birmingham, Alabama. He was the son of the late Lee Ander Colley and Blanche Wood Colley.
He is survived by his former wife, Karen Self Colley, the mother of his daughters Martha Anne Porter, his daughters Catherine Colley Williams (Marty) of Destin, Florida and Carolyn Colley Perry (Curtis) of Columbus, GA.
He is survived by three grandchildren: Mary Hannah Williams, Anna Haisten Williams, and Catherine Wakeley Perry as well as several nieces and nephews and special friends.
Mr. Colley attended Sidney Lanier High School in Montgomery, Alabama and graduated with the class of 1962. He attended John Patterson Technical College in Montgomery and graduated with a degree in Mechanical Drafting and Design in 1964. He also attended Troy University from 1966 to 1968.
In 1964 he moved to Eufaula, Alabama and began his career with American Buildings Company as a Draftsman and Designer. He served his country as Airman Basic to Staff Sergeant of the 187th Fighter Wing Alabama Air National Guard from 1965-1971. In the decades that followed a move to Birmingham, he worked with Rust Engineering, BE&K and Butler Buildings.
An avid Alabama football fan, Tyrone attended many games over the years, and closely watched each game on television during the past decade. He was a dedicated reader of newspapers, a history buff, birdwatcher and enjoyed studying genealogy and traveling. He was a faithful member of Trinity United Methodist Church in Homewood.
A graveside service will be held for Mr. Colley on Friday, April 23rd at 11:00 a.m. at Pleasant Hill United Methodist Church at 5537 Washington Valley Road in Springville, Alabama.
Memorial contributions may be made to:

Trinity United Methodist Church
1400 Oxmoor Road
Homewood AL 35209

Samaritan's Purse
P.O. Box 3000
Boone, NC 28607
Published in The Birmingham News from April 20 to April 25, 2021.