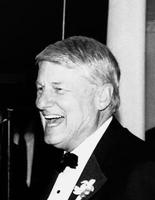 George B Clements, a long-time brokerage executive, prominent civic leader, and decorated combat officer in the Vietnam War died peacefully at home in Montgomery, Alabama, on July 18 at the age of 77.
His death came just ten days after the passing of his wife of 55 years, Gail Summerlin Clements.
Though he spent most of his life in Montgomery, George was born in Columbia, South Carolina, on March 5, 1944, to Mrs. Elizabeth Bunch and Mr. Augustus Kirby Clements.
George was a graduate of Lanier High School and Auburn University, where he was a member of the Sigma Alpha Epsilon social fraternity.
George proudly served in the US Army during the Vietnam conflict in combat as a First Lieutenant in Field Artillery. He was awarded the Bronze Star for bravery, among other accolades.
George started the first Robinson Humphrey office in the state of Alabama. He spent over 50 years with the firm transitioning through successor firms retiring as a Senior Vice President and Wealth Manager at Morgan Stanley. He was the branch manager in Montgomery for 34 years and has focused the last 14 years working with his clients as a financial advisor. As a branch manager, he also served as a member of Robinson Humphrey's Board of Directors.
In his younger years, when not in the office, George could be found playing racquetball, tennis, golf, or reading on his porch, where he loved to smoke a cigar and drink a cold beer. In addition, George had a deep love for inshore fishing along the gulf coast and at his pond, where he spent many hours.
George served as president of:
Montgomery Area Chamber of Commerce
Montgomery United Way Campaign
Montgomery Lions Club
Montgomery Auburn Club
Blue-Gray Association
Montgomery Country Club
In addition, he served on the board of the:
Blue-Gray Tennis Championship
Jackson Hospital Foundation
Capital City Club
YMCA Metro Board
the Committee of 100
He was also a lifelong member of Trinity Presbyterian Church.
George Clements is remembered by all who knew him, including his children and their friends who grew up around him, as a true southern character - a man of great charm and wit who expressed himself with clever colloquialisms in the richest of southern accents.
He is survived by his children, Lane McLean (Stanton) of London, England, Bill Clements (Renee) of Birmingham, Alabama, and Summer Anderson (Clyde) of Charleston, South Carolina; ten grandchildren, Myles, Tilly, Oliver, Bea, Claire, Ali, Olivia, Christian, William, and George; his siblings Carolyn Sasser (Robert) of Montgomery, AL, and Eleanor Kohn (Richard) of Montgomery, AL. He was predeceased by his brother, Gus Clements, also of Montgomery, AL.
A graveside service will be held on Monday, July 26 at Greenwood Cemetery at 11:00 am for family only. Following the graveside service, there will be a visitation at Trinity Presbyterian Church at 12:30.
In lieu of flowers, the family suggests Memorials to:

Trinity Presbyterian Church
1728 S Hull St
Montgomery AL 36104
Published by Montgomery Advertiser from July 20 to July 25, 2021.