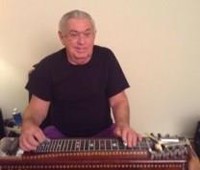 Samuel "Sammy" Hugh Brock, age 72, passed away on Sunday, October 09, 2016. Sammy was born to Samuel Hugh Brock and Myra Cordle on July 5, 1944. He is preceded in death by his loving wife of 50 years, Sharon Brock and his father, Samuel Hugh Brock.
He proudly served and retired from the Alabama National Guard as an Avionics Technician. Sammy was a longtime member of First Assembly of God in Montgomery and he enjoyed playing the steel guitar, fishing, and most of all spending time with his grandsons.
Sammy is survived by his mother, Myra Cordle; his sons, Trey Brock (Heather) and Joey Brock (Katrina); his grandsons; Gabe, Andrew, and Amos; and his brother Tommy Brock (Pat).
The family will receive friends on Thursday, October 13th, 2016 from 10:00 to 11:00 am at First Assembly of God with funeral service beginning at 11:00 am. Burial will take place at Alabama Heritage Cemetery following service.
In lieu of flowers, donations may be made to:

First Assembly of God's New Building Fund

10505 Atlanta Highway
Montgomery AL 36117
334-215-0180
MAP