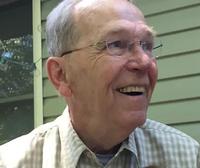 Jack Nixon Boyd, 78, a longtime Gulf Coast resident passed away on Thursday, November 3rd, 2022.
Born to parents Benjamin Franklin Boyd and Maude (Nixon) Boyd on March 11, 1944, in Montgomery, Alabama, he was the younger brother of Frank Alston Boyd.
Jack graduated from Lanier High School, Montgomery, Alabama, in May of 1962. He was an accomplished athlete and an Alabama State High-school Football Champion. He graduated with a Bachelor of Science from Troy State University.
Jack's personality was unmistakable, composed of wit, humor, and a charm all his own. He will be remembered as a friendly, kind soul who sincerely appreciated the beauty of nature and art, and who also had a great love for music and sports.
Known to many in recent years as Papa Jack, his loved ones celebrate the memory of a loving grandfather and encouraging coach. He left his friends and family with countless memories and will be deeply missed.
Jack is survived by his four children, Amy Wells Boyd, Jack Nixon Boyd II, Randall Walker Boyd, and Benjamin David Boyd; eight grandchildren (Jaylyn, Jack, Joey, William, Noah, Rose, Frances, and Lily); and many other relatives and friends.
A celebration of Jack's life will be held at Marcus Pointe Golf Club in Pensacola, Florida, on March 11, 2023, from 2-4 pm. RSVP at 850-823-1219 or by email at boydiijack31@gmail.com.
Posted online on November 18, 2022
Published in Montgomery Advertiser​​​​​​.