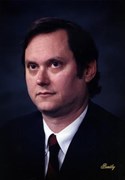 Mark "Wayne" Sabel, age 75, a resident of Montgomery, died on May 22, 2018, after a long battle against pancreatic cancer. He lived longer than anyone expected, including his physicians. His battle for survival and will to live is the essence of who he was. He died, as he lived, fighting the good fight.
A long-time civil rights lawyer with a disarmingly cordial demeanor, his pursuit of justice was incessant. Interested in all things and intellectually engaged at all times, he constantly concerned himself with the welfare of others, befriending people from all walks of life and championing the cause of those who sought his counsel. The depth of his devotion to family, friends, and clients was unsurpassed.
Wayne began his legal career at Atlanta Legal Aid. He was proud of his work with dissident Iranian students during the early 1980s and his spirited defense in the Buddy Cochran case, which involved Cochran's disruption of a Klan rally. He returned to Montgomery to continue his fight against all facets of discrimination. He successfully argued Fair Housing cases, LGBTQ rights cases, and racial discrimination cases. His tenacious representation is largely responsible for there being women in significant numbers and with high rank in the Montgomery Police Department, the Montgomery City Jail, and in the Montgomery County Sheriff's Department. He believed that all people, regardless of race, creed, or status deserve respect and equality.
Wayne was a man of passion. He was passionate about social justice, wrong-headed politics, music, and life. Wayne and his wife Cheryl spent many happy times over the decades with family and friends listening to the Blues at The Capitol Oyster Bar, thanks to Lewis Mashburn. From his teenage years, Wayne was a devoted fan of Rock and Roll and the Blues. He loved telling stories about his comparing Pat Boone's version of a song to the "REAL" version, which resonated so much with him.
He had a big heart and contributed to many charities and served on numerous Boards. He was instrumental in helping Service Dogs Alabama get its start by providing free office space and furniture. He was excited about the program and its mission.
Wayne will also be remembered for his vision. He and his then law partner, Maricia B. Woodham, organized the "Children's Walk" up Dexter Avenue as part of the Rosa Parks' 50th Anniversary Celebration. Wayne wanted the City's school children to know about this fight for justice and Montgomery's central role in the Civil Right's Movement. It was an educational and uplifting experience for all of the hundreds of children and their teachers and the general public from across the state who attended.
Wayne is survived by his mother, Rita; his wife, Cheryl; his siblings, Robert (Lynne Mallonee), James (Jane), and Ellen Griffin (Bill); his children Mark (Mary), Helene Tucker (Jason), Samuel (Heather Sabel-Sowers) and Micah Moore (Judith Abeydeera); his grandchildren, Ellie, Rosa, Sebastian, Lilliana, Julian, Miles, Forrest Wayne, and Amelia; and a host of nieces, nephews, cousins, extended family, and friends.
Visitation will be held Thursday, May 24, from 7:00-8:30 p.m. at Leak Memory Chapel. Funeral service will be held Friday, May 25, 2018, at 11:00 a.m. at Leak Memory Chapel. Burial to follow at Greenwood Cemetery.
Pallbearers are Daniel Griffin, Benjamin Griffin, Jennifer Sabel, Erika Sabel, Ruby Wong, Brandon Sowers, Chris Mahnken, and Josh Nichols.
Honorary Pallbearers are Rick and Marlene Beringer, Bill Mahoney, Phil and Susan Bernstein, David Grusin, Pat Dees, Barbara Handmacher, John Pickens, Terry Raycraft, Jon Broadway, Donna Felder, Cynthia Robinson, Luci Lee and Joe Lanoux, Rosemary Blackmon, Ellen Mertins, and Lynne Zaris.
In lieu of flowers, the family requests donations to either:

Music Maker Relief Foundation
P.O. Box 1358
Hillsborough NC 27278
(This organization provides, among other things, financial support to American Roots Music Artists.)

Service Dogs Alabama
8365 Mobile Highway
Hope Hull AL 36043
(This organization provides trained service dogs to qualified recipients in Alabama with various disabilities, thereby changing and saving lives.)
Published in the Montgomery Advertiser on May 24, 2018.