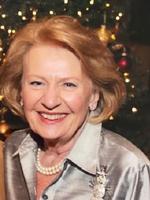 Angelia Pitts Brady passed away peacefully Sunday, June 27 surrounded by her loving family. Angelia was born to Marie and CE Pitts and raised in Montgomery, Alabama. She is predeceased by her husband, Joe Brady, Jr.
The second of five children, she loved being with her family and grandchildren. She attended Sidney Lanier High School followed by the University of Alabama and completed her studies in Fashion in New York City. This venture began a love affair with New York, style, the Plaza, and champagne. She returned to Birmingham where she met and married Joe Brady, Jr. of Birmingham, the love of her life, and the two were lucky to have been married for fifty years.
Angelia was passionate about the arts and community and was active with the Birmingham Museum of Art and Birmingham Botanical Gardens. For many years, she was the co-owner of the Briarcliff Shop, where she was able to use her passion and talents while helping others. She loved her Queen of Diamonds Bridge Group and Supper Club, who appreciated her beauty inside and out.
Angelia had a unique eye for style, especially in gardens and flowers. She used her gifts to spearhead a rebirth of Martha's Garden at Canterbury United Methodist Church and in the Crawford Owen Sunday School class.
Angelia will be remembered by her daughter Caroline (Bill) LaMotte, III of Columbia, South Carolina, her son Joe (Cathryn) Brady, III, of Birmingham, and her grandchildren who were the light of her life - Carter LaMotte and Francis LaMotte, Islay Brady, Henry Brady, and Charley Brady. Angelia is also survived by her brother, Lauden Pitts, sisters Patricia (Morris) Meeker and Tina McCollum, and many nieces and nephews.
Angelia, known as Honey, is greatly loved and will be missed by many. The family is grateful to the medical and nursing staff at Brookwood Baptist Medical Center CVSU for their love, care, and compassion. The family will have a private service to celebrate her life. In place of flowers, memorials may be made to Canterbury United Methodist Church, care of Martha's Garden.
Published by The Birmingham News from June 28 to June 30, 2021.