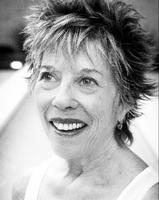 Jule Henle Lang passed away on January 30, 2017, following a brief illness. She was born in Montgomery, Alabama to the late Sam and Louise Henle.
Jule is survived by her sons: Drew Lang and Timothy David-Lang of New York, NY; daughters-in-law: Graciela Bergner and Jennifer David-Lang; grandchildren Zoe David-Lang, Alexa David-Lang, and Nicolas Lang; and brother, Phil Henle of Birmingham, Alabama.
She graduated from Newcomb College with a degree in English. Following her marriage, she made New Orleans her home. She was a great lover of books and gardening, but was passionate about supporting New Orleans artists, and preserving New Orleans neighborhoods. Professionally, Jule had a long career in interior design, including operating her own firm, Jule Lang Interiors.
Friends are invited to a Memorial Service at Washington Square Park on Saturday, February 18 at 12:30.
In lieu of flowers, a contribution may be made to The Preservation Resource Center, 923 Tchoupitoulas Street, New Orleans, LA 70130.
Published by The Times-Picayune from February 9 to February 12, 2017.