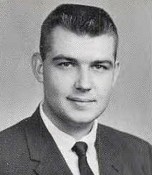 Fred H. Hardy, Ill, 58, of Dallas, Texas, died January 1, 2002. Mr. Hardy was preceded in death by his parents, Alice Reid and Fred Hardy, Jr.
A native of Montgomery, he attended the University of Alabama where he was a member of the Phi Delta Theta fraternity. Mr. Hardy began his broadcasting career In the 1960s and has been associated with Jam Creative Productions for the last 25 years as Vice President of Sales. During his career, Mr. Hardy helped thousands of clients in the U.S., Canada, Central America, and South America to create musical jingles and commercials to promote their industry.
Mr. Hardy is survived by one sister, Jan Hardy Hobson, and a brother-in-law, William C. Hobson, and two nieces. Allison Reid Hobson and Elizabeth Sims Hobson.
Graveside services will be held at Greenwood Cemetery at 2:00 p.m. Saturday, January 5th, 2002.
Memorials can be sent to:
Jackson Hospital Foundation
1725 Pine Street
Montgomery AL 36106
Leak-Memory Chapel Directing