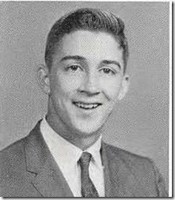 Warren Cameron Dow, Jr., 70, of Auburn, Alabama, passed away on Friday, October 4, 2013, at Bethany House.
A loving husband and father, Warren was well known for his smile and tender nature. Born in Opelika, Alabama in 1943, Warren spent 36 years of his professional life working for Mercantile Retail Stores, where he held positions in Tuscaloosa, Montgomery, Albany, and Columbia. After retiring from retail in 1998, Warren and his family moved to Auburn, Alabama, where he worked and retired at Auburn University.
Warren's life was filled with themes of love and grace that told a powerful story of how Jesus gives beauty for ashes. A friend of Bill's, Warren was a joy and encouragement to people who dealt with tremendous adversity in their own lives. He was never selfish with his love, giving it freely to all.
Warren is survived by his wife of 31 years, Lee; children Paul (Courtney), John (Rachel), Bud (Rosie), siblings Judy (Radney) Atchison, Robert (Ginette) Dow, Stephanie (Curtis) Pettitt; grandchildren Harrison and Dexter, nieces and nephews; his dog Belle.
Visitation will be held at 10:00 a.m. on Monday, October 7, at Cornerstone Church, with the service beginning at 11:00. Burial will follow at Town Creek Cemetery.
Flowers are accepted or you may make donations to the American Cancer Society.
The family wishes to thank the caring doctors and staff of the EAMC Cancer Center.