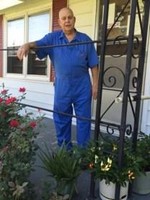 In Memory of
Ray Neal Suggs Sr.
September 4, 1941 - March 5, 2016
Obituary

Ray Neal Suggs, Sr., age 74 of Montgomery, AL, passed away Saturday, March 5, 2016.
Mr. Suggs served in the Army National Guard, he worked for Kenworth Trucking, and he owned Ray Suggs Taxidermy.
He was preceded in death by his parents, Joel Reynolds and Nell Loraine Suggs.
Survivors include his wife, Patricia Aline Mattox Suggs; children, Pamela Gale Suggs (Curtis Allen) Williamson, Phillis Diane Suggs (George Douglas "Doug") Lauer; Ray Neal (Melisa) Suggs, Jr.; grandchildren, Lacy Williamson Chance, Rachel Williamson Lloyd, Neal Suggs, Kyle Suggs, Karmen Guy; great-grandchildren, Roman Lloyd, Rylee Suggs, Molly Lloyd; and his brother, Kermit Francis (Cindy "Foshee") Suggs.
The graveside service will be held at 2:00 PM, Tuesday, March 8, 2016 at Greenwood Serenity Cemetery. The family will accept friends from 1-2:00 PM, prior to the service, at Leak Memory Chapel. On line condolences may be made at www.LEAK-MC.com.