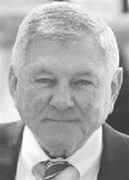 Joseph H. Sadler - February 16, 1941 - March 25, 2017
Joseph Hudson "Baby Joe" Sadler, 76, of Jacksonville, formerly of Montgomery, Alabama, passed away Saturday, March 25, 2017. A devoted husband, father, grandfather, uncle and friend to all he met; Joe will be missed.
Joe was preceded in death by his parents Joseph P. Sadler Papa Joe, mother, Josephine H. Sadler and nephew Will Grubbs. He is survived by his loving wife, Evelyn L. Sadler; two sons, Wesley Sadler (Joy) and David Sadler; two stepdaughters, Suzanne Packard and Jennifer Packard Pollock (Brian); six grandchildren; Hudson Sadler, Chance Sadler, Jordan Sadler, Benjamin Filmont, Grace Filmont, and Amelia Pollock; as well as a sister, Jane Sadler Grubbs (Bill, his brother in law and lifelong friend) and brother John Sadler (Babs). Joe also leaves behind loving nieces, Amy Grubbs Bankhead (Bill), Leigh Sadler and Lindsey Vincente (Karlo).
Joe graduated from Sidney Lanier High School in Montgomery, Alabama where he played varsity quarterback and excelled at baseball. Joe was an Army veteran, Paratrooper and Green Beret. Joe's passions beyond his love of family and devotion to being a welcoming soul to all he met were his Alabama Crimson Tide football, charcoal grilling all manner of tasty creations, an obsession with his HO Scale model railroad, the frustrations of being an urban gardener and aspiring poultry baron with his flock of laying hens.
To know Joe was to love Joe and he was always ready for a social gathering of any size while characteristically initiating many of them with his now infamous phrase let the games begin! If you asked Joe how he was, his 'pat' reply would be, "Do you really want to know?" And if the bait was taken, he would tell you If I was any better, there would be two of me. Well, this world could only handle one Joe Sadler for a short time and he will be missed by many.
In lieu of flowers, the family requests donations are sent to:
Community Hospice of Northeast Florida
4266 Sunbeam Rd
Jacksonville FL 32257
The family will be announcing a celebration of life at a later date.
Published in the Florida Times-Union on Apr. 11, 2017