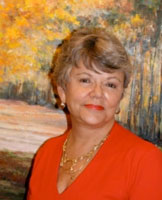 Dian Hopper Felder, 74, passed away on June 8, 2016.
Arrangements by:
Naugle Schnauss Funeral Home
808 Margaret St
Jacksonville FL 32204
904-683-9288
Published in the Florida Times-Union on July 10, 2016.
---
Dian Hopper Felder [Bio from Irving Park & Frame]
My art career started on a catamaran in the Caribbean and along the east coast of the U.S. After retiring from American Airlines, my husband and I chose to "meander" the waters, with our two Labs on board and to pass the time, I began painting, armed only with a children's watercolor set and a book of Jim Draper's work.
A couple of years later, we built a home in Jacksonville, Florida, overlooking the marsh. It was a great inspiration and I finally had the opportunity to take formal instruction.
I began to exhibit in several galleries and I soon expanded my medium beyond watercolor to include pastel and oil. Painting went from a pleasant way to pass the time to a passionate desire that also provided an avenue to meet others in a city where we knew few people. I surrounded myself with everything about art . . . classes, luncheons, gallery openings, independent study groups and eventually workshops around the country. My husband, Tony, even started painting (probably in self-defense). I have met wonderful people along the way and am always looking to try new techniques.
My love of animals led me to volunteer at rescue and rehab shelters for both birds and furry critters, which led naturally to painting them
After my husband's death in 2006, I relocated to Greensboro to be closer to my family and to enjoy and participate in the fine art community of North Carolina.
My work is exhibited in the following galleries:
Sweet Magnolias – Jacksonville, FL
The Bungalow Art Works – Jacksonville, FL
Beaches Art Gallery – Jacksonville Beach, FL
Marshall Art Gallery – Greensboro, NC
The Little Gallery – Smith Mountain Lake, VA
Island Hotel and Breakfast – Cedar Key, FL