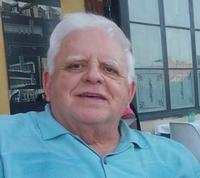 Ronald Lynn Anders, Sr. (Ronnie) of Auburn, Alabama passed away after a 13 month battle with cancer on May 9, 2019, at the age of 78. He made cancer work extra hard, keeping the disease off balance just as he did hitters in his youth as a legendary left-handed baseball pitcher.
Ronnie was born to parents Troy Edward and Anna Lee Smalley Anders on January 12, 1941, in Tuscaloosa, Alabama and later moved to Montgomery, Alabama where he was a 1959 graduate of Sidney Lanier High School and 1964 graduate of Huntingdon College. The original Anders Bookstore, owned by Ronnie's father, was a downtown staple located in the building that today houses the Montgomery Chamber of Commerce.
After initially working for Burlington Industries in North Carolina, Ronnie, Rosemary, and their 2-year-old son returned to Alabama in 1966 to open Anders Bookstore with his father and his Uncle Jim in Auburn where he lived out the remainder of his life. He had many civic duties for the city of Auburn during his lifetime including, President of the Chamber of Commerce, Chairman of the Parks and Recreation Advisory Board from 1978-1985, and the Public Parks and Recreation Board from 1990-2010. The Auburn Softball Complex, Auburn University Club Golf Course and the Auburn Tennis Complex were developed during Ronnie's tenure on these boards. He was a beloved youth sports coach for many football, baseball, and basketball teams. He was also inducted into the Auburn Dixie Youth Hall of Fame.
Ronnie was a member of Auburn United Methodist church where he was an active member of the Joel McDavid Sunday School Class and a long time servant of the AUMC Food Pantry and Wesley Foundation. He was a devoted son, husband, father, brother, and Pops to the five grandchildren who remained the center of his life.
Ronnie is preceded in death by his parents Troy Edward and Anna Lee Smalley Anders and his nephew James Thomas (JT) Anders.
Ronnie is survived by his loving wife of nearly 57 years, Rosemary Kirkland Anders; his sons, Ronald Lynn Anders, Jr. (Ron) and his wife Becky of Auburn; Troy Kirkland Anders (Kirk) and his wife Audra of Dunwoody, GA; his five grandchildren Joshua Davis Anders of Atlanta, Patrick Kirkland Anders, Troy Hurston Anders, and Rebecca Camille Anders of Auburn, & Walter Frederick Anders of Dunwoody, GA; his brother, Charles Phillip (Phil) Anders of Desert Hot Springs, California; and his nephews John Benjamin (Ben) Floyd and wife Elizabeth of Auburn and Jason Michael Anders and wife Jamie of Montgomery.
The pallbearers are Ronnie's four grandsons plus his great-nephews, Kirkland Payne Floyd and John Calhoun (Cal) Floyd of Auburn.
Honorary pallbearers are the Joel McDavid Sunday School Class, the AUMC Food Pantry Volunteers, and the Wesley Foundation Staff. Ronnie leaves a wonderful legacy, not only to his family but to employees and friends. His life was well invested in those around him.
A celebration of Ronnie's life will be held on Saturday, May 11th at 10:00 AM at Auburn United Methodist Church. All who knew and loved Ronnie are invited to attend a reception immediately following the service in the Mathison Lobby at AUMC.
In lieu of flowers, the family prefers memorial contributions to one of the following organizations: Auburn United Methodist Church Food Pantry or the Spencer Cancer Center at East Alabama Medical Center.
Jeffcoat-Trant Funeral Home and Crematory directing.