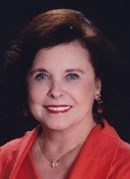 Mary Elizabeth "Betty" Coale peacefully passed away on November 13, 2016, slipping out of the arms of her loving husband and into the arms of her Lord and Savior Jesus Christ. She is preceded in death by her mother, Mary Campbell Moore and father, Randolph Benjamin Moore, Jr.
Betty was born in Montgomery, Alabama on June 25, 1940, but lived most of her life in Mobile as the caring wife of Harwell E. Coale, Jr. and the mother of their three wonderful children, Harwell E. "Trey" Coale, III (Katie), Mary Elizabeth Williams (Kevin) and Randolph Benjamin "Ben" Coale (Natalie).
Betty has five (5) adorable grandchildren, Lisa Campbell Williams, Laura Coale Williams, Matthew Gordon Williams, Randolph Benjamin "B" Coale, Jr. and Helen Ann Coale. She is also survived by a brother, Randolph "Randy" Benjamin Moore, III, a nephew, a great-niece, and a great-nephew.
Betty loved spending time with her family at their beach home on Dauphin Island and later at Perdido Key. She loved to play tennis and operated a tennis apparel shop at the Mobile Country Club for a number of years. She was also a high school teacher and sold real estate and antiques.
Betty cherished all of her friends, who were so supportive during her illness, and read and reread every get well card received from them. Next to her family and friends, she loved her pets, especially her Maine Coon Cats.
Betty loved music, taking piano and singing lessons after raising her children and retiring from working. She joined the Choir at Christ Church Cathedral and enjoyed the ministry of singing for many years.
A memorial service will celebrate Betty's life at Christ Church Cathedral on the corner of South Conception and Church Streets in Mobile, Alabama, at 11:00 am on Thursday, November 17, 2016. The family will receive friends following the service in the Parish Hall of the Church.
The family wishes to thank the caregivers who provided comfort during the last days of her life.
In lieu of flowers, the family requests that memorials be made to Christ Church Cathedral or the American Heart Association, or your favorite charity.
Condolences may be offered online at www.radneyfuneralhome-mobile.com.
Published in the Montgomery Advertiser on November 16, 2016.