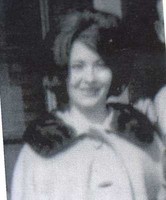 Grace Campbell, age 73, passed away Tuesday, December 17, 2013 at a nursing facility in Irving, Texas after a prolonged illness of Indocarditis. Grace was born July 22, 1940 in Dallas, Texas and was a former resident of Montgomery, Alabama from 1953-1957.
She was preceded in death by her parents, Barney Jackson Campbell and Mary Louise Helms Campbell, two sisters, Hazel Marie Campbell and Vera Ellen Campbell Basham.
She is survived by her brother-in-law and sister, Jerry Wayne Harwell and Kathleen (Campbell) Harwell of Irving, Texas; a brother, Charles Andrew Campbell of Montgomery, Alabama; two nephews and a niece, several cousins, her Aunt Jo Booth and her mother's cousin, Lea Patterson.

Grace attended Sidney Lanier High School in Montgomery, Alabama and Crozier Tech in Dallas, Texas. She received an out of town diploma in 1958. After completing business college in Dallas she went to work for USF&G. Her work life carried her to many businesses in Dallas, Texas. She retired at age 67 from Citi-Group where she was an administrative assistant.
As a girl growing up in Texas she was a member of the Blue Birds and the Camp Fire Girls and enjoyed going to summer camp. She was an avid reader and at one time had a large number of books on many subjects which she enjoyed referring to. She was a blessing to us and she will always be missed.
Graveside services will be held on Monday, December 23, 2013 at 11:00 am.in Greenwood Cemetery. Visitation will be held at Leak Memory Chapel Monday, December 23, 2013 from 10:00 until 11:00 am.
Published in the Montgomery Advertiser on Dec. 23, 2013