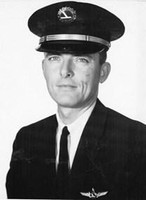 Mr. Tommy Barnette Atkins, 72, of Marietta, passed away March 16, 2013, surrounded by his loving family. Tom was born in Carthage, Mississippi, on March 17, 1940 to the late William Harry and Ruby Johnson Atkins.
After his graduation from Sidney Lanier High School in Montgomery, Alabama, he attended the University of Alabama at Birmingham. His childhood dream was to learn to fly aircraft. In 1963, Tom entered the United States Army Helicopter Training Program. He was honored at graduation from Army Flight School by attaining the number one ranking in the class. The following year, he was activated to fly with the experimental 11th Air Assault Division. Once released from this active duty tour, he was a civilian flight instructor training Army pilots that went to serve in Vietnam.
During his time in the Army, Tom met his wife, Leila, from Randolph, Alabama. He captured her heart by flying her around the south at sunset. He worked several jobs as a young pilot, including flying for Bear Bryant. Alabama has lost one of its most loyal fans - Roll Tide!
Tom's proudest moment was being hired as a pilot for Eastern Airlines in 1966. He retired from Eastern as a captain on the DC-9 after more than 23 years of service.
Tom's enthusiasm for aviation was also evident through his hobby of designing, building, and flying radio-controlled airplanes. The remainder of his spare time was spent bowling or solving crossword puzzles in his leather recliner. He was rarely found without his Cross pens in his plaid shirt pocket or a cup of Coke in his hand.
Tom was a dignified, intelligent, and well-respected man. He loved the Lord, which was reflected in his acts of service to others. He was a role model and dear friend to many. He adored his family, and they loved him dearly in return.
Tom was preceded in death by his parents and his brother, Larry Atkins. He leaves behind his beloved wife of almost 49 years, Leila Duke Atkins; daughter, Ammie Atkins McGinley and her husband, Tim; son, Tommy Barnette Atkins, Jr., and his wife Marla; grandchildren, Patrick and Elizabeth "Libby" McGinley (who called him "Papa"); and brothers, William Harry "Bill" and Louis Clifford "Cliff" Atkins.
A service to celebrate Tom's life will be held on Friday, March 22, 2013 at 1:00pm in the sanctuary of Mt. Bethel United Methodist Church. The family will receive friends on Thursday from 6:30-8:00pm at H.M. Patterson & Son Canton Hill.
In lieu of flowers, donations in Tom's memory may be made to one of the following charities:
Winship Melanoma Fund
Winship Cancer Institute of Emory University
1762 Clifton Road - Plaza 1400
Atlanta GA 30322
Juvenile Diabetes Research Foundation
www.jdrf.org
26 Broadway - 14th Floor
New York NY 10004
ASPCA
www.aspca.org
424 E 92nd St
New York NY 10128
Online condolences may be expressed at www.hmpattersoncantonhill.com.
Published in The Atlanta Journal-Constitution on March 20, 2013
---
March 18, 2013
Tom and I grew up together sharing many hours flying model air planes in Montgomery. We lost contact for a little over 50 years, only to "Find" Tom through a high school reunion allowing me to find "Brother Cliff". Had the great pleasure of catching up on 50+ years of lost memories in the last few months, talking to Tom by phone. Our prayers go out to Tom's wife, children and brothers. Laurens Pierce; Montgomery, AL
Laurens Pierce,
Montgomery, Alabama