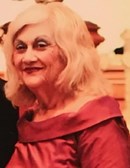 Harriet was born on June 28, 1939, and passed away on Tuesday, April 10, 2018. She was a resident of Mobile, Alabama at the time of passing.
Harriet was a graduate of Sidney Lanier High School Class of 1957 in Montgomery, Alabama and attended the University of Alabama.
Graveside services and interment will be held at 4 P.M. on Wednesday, April 11, 2018, at the Springhill Avenue Temple Cemetery on Owens St. off of Virginia St. in Mobile, Alabama with Rabbi Dana Evan Kaplan and Rabbi Steven Silberman officiating.
In lieu of flowers, memorials may be made to:

Springhill Avenue Temple
Ahavas Chesed Synagogue
St. Jude's Children's Hospital
Vanderbilt University Children's Hospital.