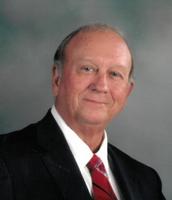 Herman Wayne Herring - August 19, 1939 - September 10, 2022.
Herman Wayne Herring, age 83 of Moss Point, passed away September 10, 2022. Wayne was born August 19, 1939, in McCalla, Alabama. He graduated from Sidney Lanier Senior High School and received a Bachelor of Arts from Auburn University in 1962. In
1963 he married and moved to Jackson, Mississippi to work for Gulf Oil Corporation and started his family. He made a leap of faith in 1970 and moved to the Gulf Coast to open the first McDonald's Restaurant in Pascagoula. Wayne would retire in 2011 after being a McDonald's Operator of 7 locations for 42 years. He was an avid golfer and enjoyed spending time watching Auburn football.
All who knew Wayne found him to be jovial, compassionate, and a loving friend that will be greatly missed. He is preceded in death by his parents, James Herman Herring and Maggie Wilson Herring, and his eldest son James Herman Herring II.
He leaves his memories to his wife of 59 years Rolanda Adams Herring and his children, Franklin Wayne (Donna Rosales) Herring of Williamsburg VA, Haley Adams Herring of Pascagoula, MS, and George Adams (Erinne Lachaussee) Herring of Perdido Key, FL.
Wayne will be dearly missed by his grandchildren Amber Lea Dion, Amee Cristina Herring, Matthew Wayne Buckley and Ella Grace Buckley, Emma Eugenie Herring, and Katherine Marie Herring.
He will be missed by his great-grandchildren Austyn Dion Manasco and Thiago James Herring.
There are also several other surviving relatives and friends.
Visitation for Mr. Herman Wayne Herring will be at O'Bryant - O'Keefe in Pascagoula on Thursday, September 15th from 6 pm to 8 pm. A graveside service will be held to lay Wayne to rest at 11 AM on Saturday, September 17th at the Coosa River Cemetery in Deatsville, AL.
Condolences may be expressed online at www.obryantokeefe.com.
Published by Mississippi Press from September 13 to September 14, 2022.
https://www.legacy.com/us/obituaries/gulflive/name/herman-herring-obituary?id=36485043