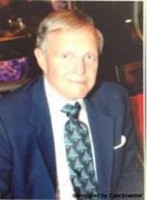 John William Gilbert, 74, passed away March 11, 2014 in Pensacola. He was born on May 4, 1939 to John Percy and Mary Igler Gilbert of Montgomery, AL. John was a long time resident of northern Virginia then moved to Perdido Key, FL in 2003.
John graduated from Sidney Lanier High School in 1957. He then graduated in Mathematics from Auburn University in 1962. John spent 30 years in government service with the last five years at the Pentagon with the Office of the Under Secretary of Defense. John enjoyed traveling, golfing, and spending time with friends and family. John was previously married to Janice Walters Davis.
Survivors include: his wife, Anne, of 27 years; children: Joanna (David) Stockman of Tallassee, AL, Carolynn (Bruce) Hilt of Navarre, FL, Tom (Wendy) Gilbert of Johns Creek, GA; step children: Russ Bazzarre of Hollywood, FL and Eric Bazzarre of Perdido Key, FL, and eighteen grandchildren.
Trahan Family Funeral Home is in charge of arrangements.
Memorial Service will be held at 10:30 am on Saturday, March 22, 2014 at: Perdido Bay United Methodist Church (PBUMC) 13660 Innerarity Point Road, Pensacola FL.
In lieu of flowers, donations may be made in John's name to either Amnesty International, POB 98233, Washington, DC, 20090 or Living Hope (use PBUMC address above).
The family would like to abundantly thank Covenant Hospice for all of their help and support.
Published in The Fairfax County Times from Mar. 18 to Mar. 31, 2014.
Express your condolences in the guest book at pnj.com/obits