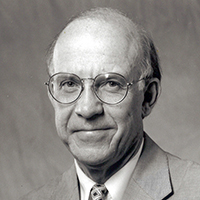 Dr. William Ernest Dismukes, "Bill," passed away on Monday, June 19, 2017, in Birmingham, AL. He was a beloved husband, father, and grandfather. He was also an esteemed infectious disease physician and educator who tirelessly extended his medical expertise to not only his patients but also to the students and residents that he taught. Bill was 78.
A native of Montgomery, Alabama, Bill was born on February 18, 1939, to Marguerite and Thomas Dismukes. He graduated from Sidney Lanier High School, where he left his mark as a gifted basketball player. After graduating from the University of Alabama, Tuscaloosa, Bill embarked on his nearly five-decade career in medicine by attending the University of Alabama School of Medicine. Upon receiving the Dean's Medal as the top graduating student in 1964, Bill relocated to Boston, Massachusetts, to complete his residency at Brigham and Women's Hospital. There, he fortuitously met his wife, Pidgie, whom he adored and leaned on throughout their 47-year-marriage.
In 1971, after completing his training, which also included serving as an epidemic intelligence service officer at the Centers for Disease Control in Atlanta, Bill joined the faculty in the Division of Infectious Diseases, Department of Medicine, at the University of Alabama School of Medicine at Birmingham (UAB). Bill spent the duration of his career at UAB, where he became a revered professor of medicine and microbiology and a leading expert on systemic fungal diseases. Among the many roles he played at UAB, Bill was a Director of the Division of Infectious Diseases, vice chairman and interim chair of the School of Medicine, and director of the internal medicine residency training program from 1981 to 2002.
For many years he served as the principal investigator for the National Institute of Health's-sponsored Mycoses Study Group, and from 1999 to 2003, he was governor of the Alabama chapter of the American College of Physicians (ACP). Bill's many awards include being named a master teacher and laureate by the ACP; receiving the Infectious Diseases Society of America's Maxwell Finland Award for Scientific Achievement, and having an endowed professorship within UAB's Division of Infectious Diseases established in his honor.
Like his commitment to medicine, Bill had a strong sense of obligation to his community. He and Pidgie were actively involved in Independent Presbyterian Church for many years. He also served as chairman of the board of directors for Kirkwood by the River, a nonprofit nursing home where Bill, as well as his mother and his mother-in-law, Ruth Warner Toy, spent the last parts of their lives. Bill and Pidgie greatly enjoyed spending time with their children and grandchildren especially during the summer at their home in Chatham, Massachusetts. They also enjoyed time with a dear circle of friends who never failed to agree to a tennis match, a ski trip, a nice meal, or, at the very least, a glass of wine or two. These same friends, as well as their children, provided tremendous support and care to Bill and Pidgie during their brave battles with their health.
Bill was preceded in death by his wife, Mary Jane "Pidgie" Toy Dismukes, his parents, Marguerite Goodwin Dismukes and Thomas Elisha Dismukes, and his brother, Thomas Goodwin Dismukes. Bill will be missed most deeply by his three children, Amy Dismukes Littleton (Michael) of Birmingham, Jonathan Gray Dismukes (Michelle) of Asheville, NC, and Scott Warner Dismukes (Mary) of Nashville, TN.
Along with Pidgie, Bill encouraged them to pursue their own paths, while providing them with wonderful opportunities, loving guidance and immense wisdom to help them find their way. In addition to his children and their spouses, Bill is survived by his grandchildren, Katie, Anna and John Littleton, Noah and Chloe Alvarez-Dismukes, and Miles and Lucy Dismukes; his two nephews, Thomas Goodwin Dismukes, Jr. and Daniel Houston Dismukes, and their families; and his steady companion and loyal dog, Luke.
The family wishes to thank Independent Presbyterian Church, the UAB Department of Medicine, Kirkwood by the River, Brookwood Medical Center, and Compassus Hospice Care Suites.
A memorial service will be held on Monday, June 26, at 3 p.m. at Independent Presbyterian Church, followed by a reception in the church parlor.
In lieu of flowers, please consider a donation to the IPC Program for Dementia or a charity of your choice
.
Published in The Birmingham News on June 25, 2017