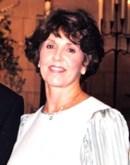 Jane Crump Richardson, a lifelong resident of Montgomery, died at home peacefully Sunday, August 4, following a lengthy illness. She was preceded in death by her parents, James Noble and Mary Elizabeth Bashinsky Crump.
Jane was a 1957 graduate of Sidney Lanier High School and later attended the University of Alabama where she was a member of Alpha Gamma Delta social sorority. An avid and skilled tennis player and an accomplished Gold Life Master in Bridge, Jane loved the competition and was a worthy opponent in all games that she played. Jane adored her family and was known to keep a trusty and beloved dog by her side.
The Reverend Jay Wolf will conduct a memorial service in celebration of her life at 12:00, Wednesday, August 7th in the Stakely Sanctuary at First Baptist Church, 305 S. Perry Street. The family will receive friends one hour prior to the service.
Survivors include her husband: John Perry Richardson; two sons: John Douglas Yelverton III and his wife, Mary Lee and Noble Crump Yelverton and his wife, Stuart; two sisters: Elizabeth Burford Crump and Helen Crump Wells and five grandchildren: Lee Gayle Yelverton, Jane Douglas Yelverton, Katherine Noble Yelverton, John Hall Massey, Jr. and Lucy Dunn Massey.
Jane's husband and sons would like to gratefully thank Debbie Meeks, Shenetta Hicks & Rosetta Hicks for the dedicated and loving care that they showed Jane during the years of her lengthy illness.
In lieu of flowers, memorial contributions may be made to:

Montgomery Humane Society
1150 John Overton Drive
Montgomery AL 36110
Published in the Montgomery Advertiser from Aug. 6 to Aug. 7, 2019