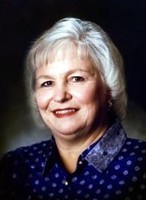 Eleanor Janet Hall, a native of Savannah, Georgia, a longtime resident of Montgomery, Alabama, and current resident of Prattville, Alabama, suddenly passed away at home Tuesday, May 9, 2017, at the age of 79. She was preceded in death by her parents, Arthur B. and Edna Mae Walker and her beloved husband, Lary Goodrich Hall.
Eleanor was a graduate of Sidney Lanier High School and Massey Draughn Business College. She retired from a wonderful 43-year long career with the Claims Office of the State Farm Insurance Company.
Eleanor was a dedicated member of the Prattville United Methodist Church family where she loved to serve and socialize. She was truly God's hands and feet. Always putting others first. Eleanor's gorgeous sweet smile radiated her Christian heart where she loved and adored her family and held her friends close.
Eleanor was a well-read lover of all books. She had a palate for chocolate and loved anything chocolate! She also thoroughly enjoyed buying and growing beautiful flowers. She was a huge Alabama football fan and took pleasure in playing Mexican dominoes, bunco, and attending games day at Prattville FUMC.
Eleanor is survived by her brother, Robert J. Walker; son, Charles (Cindy Lawson) Woodling; daughter, Janet (Damian) Walley; step-sons, Lary (Becky) Hall, Charles (Mona Lisa) Hall; step-daughter, Joan (Randy) Chandler; 12 grandchildren, Megan (Ian) Brown, Kristen (Chris) Sifuentez, Christopher (Ashley) Walley, Amelia Walley, Jennifer Velazquez (Craig Peavy), Nelson(Grace) Velazquez, Sr., Paige Parisi, Erika Parisi, Keith (Kelly) Chandler, Kevin (Jennifer) Chandler, Jonathan (Shane McGalliard) Chandler, and Jillian Chandler; 27 great-grandchildren, Kinley and Karter Brown, Logan and Jackson Collier, Jarod, Isabel and Mason Sifuentez, Jackson, Nellie, and Lillie Walley, Hailey, Paige, Sydney, and Aiden Bass, Nelson Velazquez, Jr., Jackson, Logan, Ethan, Bryson, Katy, Aubry, and Lydia Chandler, Blake, Julia, Avery, Maddison, Charleston and numerous relatives and friends all of whom brought great joy to her life.
The family will receive friends at Leak Memory Chapel Friday, May 19, 2017, from 2 pm until 3 pm. Graveside services with Reverend Bobby Ellisor officiating will follow at 3 pm in Greenwood Serenity Memorial Gardens. Pallbearers are Chad Carter, Daniel Carter, Bill Curran, Pat Fells, Jeremy and Josh Valdakis.
Published in the Montgomery Advertiser on May 18, 2017