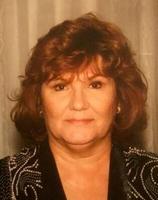 Marilyn Rice Miller, age 83, died on January 12th, 2021, at her home in Conyers, GA. Her final days were spent quietly with her family. She is survived by her husband, Charles R. Miller, her children, Charles R. Miller Jr. (Alfreda), Kenneth L. Miller (Linda), Candace M. Reeves (Paul), Amy D. Miller (Anderson Scott dec.) all of Georgia, five beautiful grandchildren, and her brother Fleetwood Rice of Alabama.
Marilyn was born in Montgomery, AL. of the Hood and Rice families in 1937. She attended Cloverdale Grammar School, Cloverdale Junior High School and Sidney Lanier High School. She and Charles were married in Montgomery in 1958.
In 1969, the family settled in a charming old farm house in Conyers, GA. Shortly after arriving, Marilyn became interested in animal rescue and co-founded the Rockdale County Humane Society. After the children were grown, she returned to college for personal enrichment and earned a degree in Social Work from the University of Georgia in 1991. Marilyn was also an author - her memoir, "For the Sake of Appearances" was published in 2005.
Marilyn was immensely creative and imaginative and her generosity was astounding. She loved art, literature, music, nature, and her family with genuine ferocity. She will be greatly missed.
In lieu of flowers, please consider a gift to St. Jude Children's Research Hospital, one of Marilyn's favorite charities https://www.stjude.org/give.
Published in Montgomery Advertiser from January 15 to 16, 2021.