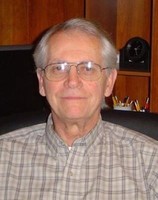 Dr. Harris Reed Green (b. July 2, 1938), a native of Montgomery, Alabama and a current resident of Big Canoe, Georgia died suddenly on June 28, 2017. He was an English professor who in his active retirement loved living in the beautiful north Georgia mountains, volunteering at Good Samaritan, and offering literary-based activities for the residents of Big Canoe. He authored two books: Chinaberry Summer: Riverton, Alabama 1947
and After My Fall from the Tree House: A Memoir
and would start each day by saying he was going to go to his study and "think great thoughts."
He is preceded in death by his parents, Jennie Beatrice and George Bliss Green and brother, Dr. George Bliss Green. He is survived by his loving wife of 55 years, Annelise Madsen; son, Carsten Bo Green (Leigh); two granddaughters, Harper and Hawkins; sisters, Marjorie Scorey, Janice Mahoney, and Dorothy Hawthorne; brothers, Dr. James N. Green and Dr. Richard W. Green; brother-in-law, Ole Madsen, Copenhagen, Denmark; and many nieces and nephews.
A celebration of life will be held at a later date.
Memorial donations may be made to:
Good Samaritan Health and Wellness Center
175 Samaritan Drive
Jasper GA 30143
or to a charity of one's choice.
Published in the Montgomery Advertiser on July 2, 2017.