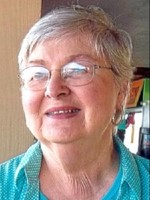 Bobbie D. Biggio, 77, of Calera, passed away on Tuesday, December 1, 2015 at Shelby Baptist Medical Center. She was born Aug. 2, 1938.
Bobbie was a graduate of Sidney Lanier High School, class of 1956, in Montgomery, AL. Her greatest pleasure was expressing her artistic talent through painting. She enjoyed spending time at the beach, especially attending the annual Shrimpfest Festival in Gulf Shores. She looked forward to her Thursday morning Biscuit Buddies at Community Baptist Church. Bobbie's love for Alabama Football remained strong; she was able to enjoy the Iron Bowl on Saturday…Roll Tide!
Bobbie is preceded in death by her father, Edward L. Dailey, Sr.; mother, Bobbye Utley Dailey; and her son, Michael J. Biggio. She is survived by her daughters, Christa Biggio Monson and Lisa Biggio Fortenberry (Ronnie); brother, Edward "Skip" L. Dailey, Jr. (Beverly); grandchildren, Dr. Matthew D. Phillips (Christine) and Katherine P. Morse (Thomas); and two great grandchildren, Thomas Jackson Morse and Anna Katherine Morse.
The family would like to extend a special thank you to Cindy Bell, Teresa Sims and Cookie and Al Chastang for their years of friendship, support and caregiving.
The celebration of Bobbie's life will be at 1pm on Friday, December 4, 2015 at Southern Heritage Funeral Home. The family will receive friends beginning at 11:30am.
Published in the Montgomery Advertiser on Dec. 2, 2015.