Luther Eugene "Gene" Bozeman, 75, of Montgomery, Alabama passed away Tuesday, April 16, 2013. He was born in Montgomery County on June 18, 1937.
Gene graduated from Lanier High School and was a veteran of the U. S. Army serving in the Special Forces as a Paratrooper and Green Beret. He was married to Jeannine Ausborn on August 29, 1959.
Gene was the founder and owner of Mid-South Electric Co., Inc. in Montgomery, and had a passion for flying, motorcycles, boating, and the outdoors.
He is survived by his wife of 53 years, Jeannine Bozeman; children, Darlene Lee, Chandylene Archer (Michael); Tiffaney Mizell (Eric); grandchildren, Keenan Archer, Dustin & Genelynn Lee, and two sets of twins, Kassidy & Kaylee and Beaux & Bryson Mizell; sister, Kathy Presley (Don) and his beloved dog, Jake. He was preceded in death by his son, Bo Bozeman and recently his mother, Nolie Wood.
Funeral services will be held at 3:00 PM Sunday, April 21, 2013 at Leak-Memory Chapel. Burial will follow in Greenwood Cemetery. Visitation will be Sunday from 1:30 - 3:00 PM.
Pallbearers will be Mike Archer, Eric Mizell, Dustin Lee, Keenan Archer, Tommy McGough, and Maurice Stainback.
Memorial contributions may be made to the Montgomery County Humane Society or In Touch Ministries.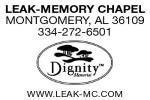 Published in the Montgomery Advertiser on April 19, 2013