Joseph (Joe) Walker Brown, 95, a resident of Montgomery, Alabama, died Wednesday, April 3, 2013 in a local hospital.
Funeral services will be held Friday, April 5, 2013 at 5:30 p.m. at Leak-Memory Chapel with Rev. Rick Evans officiating. Burial will be in Greenwood Cemetery.
Mr. Brown was a graduate of Alabama Polytechnic Institute (now Auburn University). Called to active duty in 1943, he served in the Seabee's of the United States Navy during World War II. After the war, he returned to Montgomery and went to work in the Base Finance Office at Maxwell Air force Base until his retirement from the United States Civil Service. He was a member of Dalraida Baptist Church.
He is survived by his brother Frank H. (Sonny) Brown, Montgomery, AL; two nieces, Elizabeth Brown Moore (James B. Moore), Pelham, AL; Mary-Frank Brown, Montgomery, AL ; and two great nieces, Maggie and Rachel Moore, Pelham, AL.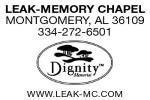 Published in the Montgomery Advertiser on April 5, 2013