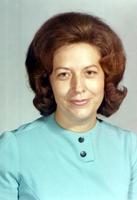 Loette Lee ( Messick) went to be with the Lord on February 26, 2020, surrounded by her family. She was 82. She was preceded in death by her parents Joe Tom Messick and Ella Mae Kelley Messick, and sisters Josie Terry and Eloise Pryor.
A long-time Montgomerian and friend & teacher to many, Loette was born May 20, 1937, in Pike County. She graduated from Macon County High in 1955. Loette graduated from Huntingdon College in 1959 with a Bachelor of Education and also earned a Masters of Education from Auburn University.
After graduating from Huntingdon, she taught at Lanier High School for the next 17 years. She would transfer to the Montgomery Board of Education in 1976 where she retired after 34 years in education for Montgomery County.
In 1993 she became the Director of Adult Education at Frazer Memorial UMC before retiring in 2008. It was her teacher & servant heart that she taught Sunday school for over 50 years and spent countless hours volunteering as a tutor in reading and math.
She is survived by her husband of 64 years Maurice Edwin Lee; son Kevin (Missy) Lee, grandchildren Caroline Lee, Will Lee, and Sam Lee, all of Montgomery; sisters Sue McLendon (Gus) of Montgomery, Faye McFarland of Norcross Georgia, and brothers James Thomas Messick (Dot) and John William Messick (Genye) of Montgomery and numerous nieces and nephews.
Visitation will be at noon Friday, February 28, 2020, at Frazer UMC 6000 Atlanta Highway Montgomery Alabama 36117. A memorial service will follow at 2:00 pm at the church with Dr. John Ed Mathison and Rudy Heintzelman officiating.
In lieu of flowers, the family asks that donations be made to the fund of In Christ Way at Frazer UMC 6000 Atlanta Highway Montgomery, Alabama 36117.
https://www.dignitymemorial.com/obituaries/montgomery-al/loette-lee-messick-9053427