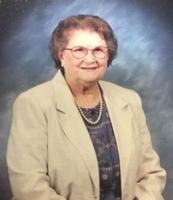 Margaret Martin Johnson, 97, of Montgomery joined her heavenly Father on May 5, 2019. She was predeceased by her husband, Evan Dan Johnson Sr., grandson, Clayborne Johnson; and her sister, Freddie Ashley-Smith.
She is survived by her children: Dan Johnson Sr. (Sybil), Birmingham, Gail Johnson Wells (David), Florence, AL. Carol Johnson Telehany (Paul Sr.), Montgomery and Fred Johnson (Lucy), Montgomery; 13 grandchildren and 19 great-grandchildren.
Margaret was born on July 24, 1921, to Pastor Fred Martin and Bessie Langley Martin in Fyffe, AL. Margaret attended Blue Mountain College in Mississippi for 2 years and graduated from The University of Alabama in 1944. In 1964 she graduated with a Master's Degree in Library Science from the University of Alabama.
On October 6, 1946, she married Evan Dan Johnson, Sr. in Tuscaloosa, Alabama after his return from 3 1/2 years as a POW in a Japanese prison camp. Margaret was a faithful church member of Capitol Heights Baptist Church and Thorington Road Baptist Church (formerly Woodley Baptist), teaching children and adult Sunday School classes for most of her adult life. She was the Head Librarian at Sidney Lanier High School from 1962-1989.
Her visitation will be Thursday, May 9, 2019, from 11:30- 1:00 PM at Leak Memory Chapel followed by a graveside service at Greenwood Cemetery.
In lieu of flowers, memorials may be made to First Choice (formally known as Sav A Life), Baptist Hospice or the Clayborne Stanford Johnson Memorial Scholarship at Trinity Presbyterian School.
Published in the Montgomery Advertiser on May 8, 2019.