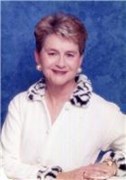 Beloved wife, mother, and grandmother, "Cinda" Jobin has entered the gates of heaven to be with her Lord and Savior Jesus Christ. Lucinda's great faith and strength sustained her through a two-year illness, while her husband Emile Michael Jobin stood by her side to love and comfort her for 16 years of happy marriage. She is survived by her three sons Raoul, Jefferson and Mitchell Rall, Grandson Charlton Rall, and granddaughters Enelise, Emma, and Lillian Rall. Additional family includes step-grandchildren Kevin and Christopher Jobin.
Lucinda or " Cinda" was the second child born to Lester Hall Sr. and Florence Charles Hall. She grew up in Chantilly Plantation, a historical house in Mount Meigs, east of Montgomery, Alabama. Her country upbringing did not limit her to the finer elements of poetry, art, and ballet. She attended Pike Road Elementary, then Sidney Lanier High School where she gained a love of English and writing. Surrounded by many southern belles in Montgomery, it was no small feat for her to earn the nickname "South" for the yearbook picture. She attended All Saints Episcopal College in Vicksburg Mississippi and graduated in 1956.
She embarked on a military life when she married US Army Captain Frederick A. Rall in 1961. After serving two tours in Vietnam, Fred was stationed in Washington D.C. in 1973 and then assigned to Heidelberg, Germany. Lucinda took advantage of her locale, traveling to Italy, France, Holland, and Spain. On an embassy trip to Soviet Russia in 1976, she experienced personal surveillance by Russian agents. The family settled in Ft. Walton Beach in 1978 and upon her husband's retirement from the military, Lucinda worked as a secretary for several pastors at the Hurlburt Air Force Base Chapel in the late 1980's. Lucinda's avid love of History and genealogy served her well as Regent for the Emerald Coast chapter of The Daughters of The American Revolution for two years.
Artistic and tasteful, Lucinda's talents blossomed in many diverse fields; Interior Design, furniture and canvass painting, designer clothes sales, and her longtime passion of writing children's stories, which earned her a certificate from the Institute of Children's Literature.
A new adventure began when in 2006 she married E. Michael Jobin and spent every moment under his adoring eyes being loved and cared for. They shared a passion for the ocean and spent peaceful times on Michael's fishing boats cruising local waters with her dogs Max and Molly aboard. She loved her friends and spent time praying and worshiping in local churches, Westminster Presbyterian, Safe Harbor Presbyterian and Village Baptist of Destin.
Besides friends and family, Lucinda is missed greatly by her husband, describing her as "the kindest, most compassionate, and generous wife on the face of this earth."
A Funeral Service will be held on Wednesday, May 23, 2018, at 11:00 a.m. at Emerald Coast Funeral home. The family will receive friends one hour prior.
Expressions of love and sympathy may be placed and viewed online at www.emeraldcoastfuneralhome.
Published Online in Northwest Florida Daily News on May 22, 2018