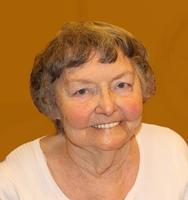 September 27, 1937 – June 19, 2022
Mary Carol Grice Ward Crippen, 84, a long-time resident of Montgomery, Alabama, went to her eternal rest on June 19, 2022, at home surrounded by family, friends, and hospice caregivers after years of declining health. An active and beloved member of The Church of Jesus Christ of Latter-day Saints in the Carter Hill Ward, who continued to brighten everyone's most special days with a handwritten card in the mail.
Born in Clio, Barbour County, Alabama on September 27, 1937, to Rachel M. Benton Grice (1911-1994) and Ellis Bennett Grice (1905-1989), the second of three children, she was sister to Sarah Margaret Skinner (1932-2018) and is survived by her brother Aubrey Kay Grice (Janice).
A 1955 graduate of Sidney Lanier, she completed her R.N. degree at Ida V. Moffett School of Nursing, now Samford University in 1958. Her long career included obstetrics, geriatrics, and administrative nursing.
From delivering babies as protégée to her aunt, Dr. Mellanie Carroll Benton (1920-1997), in Slocomb, Alabama to duties as Director of Nursing Services at several hospitals and nursing homes including Professional Center, St. Jude, South Haven, and Cedar Crest in Montgomery, Carol touched many lives with her healing art. Her later years were filled with nursing end-of-life care for a multitude of relatives. She was the hand to hold as they let go.
She is preceded in death by her parents, sister, husbands Charles Rudolph Ward (1924-1968), James Irwin (Red) Crippen, Sr. (1930-2004) after 35 years of marriage, and stepdaughter, Adah Laurie Nichols (1953-2012).
She is survived by her brother; daughter, Rachel Dawn (John R. Prosser, Jr.); granddaughter, Victoria Mellanie Belle Prosser; stepson, James I. Crippen, Jr.; step-grandson, Zach Nichols (Justine); step-granddaughter, Michelle Kolarik (Sean); step great-granddaughters Lillian and Lauren Kolarik; many nieces, nephews, and cousins.
Visitation -Thursday, June 23rd, 5:00-7:00 pm
Funeral - Friday 10:00 am
Leak Memory Chapel
945 Lincoln Rd, Montgomery, AL 36109
Fond memories and expressions of sympathy may be shared at www.Leak-MC.com for the Crippen family.
https://www.dignitymemorial.com/obituaries/montgomery-al/mary-crippen-10798917