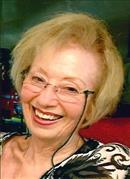 Our beloved wife, sister, aunt, stepmother, and friend, Dorothy (Dottie) Ruth Edney Branch, went to be with the Lord on early Sunday morning, July 17, 2016. Dottie was the oldest of Muir and Katharine Edney's three children, born March 3, 1937, in Birmingham, Alabama. She graduated from Sidney Lanier High School in 1955. She received a Dupont scholarship, and attended Auburn University where she was a member of the Alpha Gamma Delta Sorority. She graduated with a Bachelor's Degree in 1959, and then a Master's Degree in Spanish. She also completed coursework at the University of Madrid in Spain. She taught school at Wetumpka, St. James, and Sidney Lanier, and also taught courses at Alabama State University.
On December 25, 1983, she married Edward (Buddy) Gachet Branch III, her high school sweetheart. Dottie will always be known for her unconditional love, encouragement, prayers, and genuine concern for every person she knew. She shared her love of knowledge with hundreds of students through her many years as an educator. She was the most gentle and loving person. Her fun-loving spirit and beautiful smile will always be remembered and missed.
She is preceded in death by her parents. She is survived by her husband, Edward G. Branch, III (Buddy); sister, Peggy Bowen Grigg; her brother, Tim Edney; her stepchildren, Jim Branch (Kathleen), Ellen Middlemas (Warren), Amalie Branch, and Powell Branch; six grandchildren and two great grandsons; and many nieces and nephews. On Saturday, July 23, 2016, a celebration of Dottie's life will take place at 1:30 P.M. in the chapel of White Chapel-Greenwood Funeral Home. A graveside service will follow at 3:00 P.M. in Greenwood Cemetery. To extend condolences, please visit www.heritagefhllc.com
Heritage Funeral Home
Panama City, FL
(850) 785-1316
Published in the Montgomery Advertiser from July 22 to July 23, 2016.