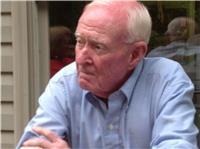 Herbert T. (Red) Dennis of Panama City Beach passed away on August 7.
He was born in Birmingham, Alabama on December 28, 1937, and grew up in Montgomery. After graduating from Sidney Lanier High School, Red attended Auburn University, where he joined the SAE fraternity, and then attended Huntingdon College.
Red proudly served in the U.S. Army Reserves and was called to active duty during the Berlin crisis in 1961 stationed at Ft. Lee, Virginia. He spent most of his business career in Georgia in the cement industry in sales with Signal Mountain Cement Company.
Having started playing golf at age eleven, he developed many lasting friendships and was fortunate enough to have played many fine golf courses. On retiring to Panama City Beach in 1995, he became a member of Panama Country Club, where he served on the board as Vice President, and later as President.
His survivors include his wife of 59 years, Nancy Villar Dennis, and sons Mike (Kelly), of Helena, Alabama, and Pat of Fayetteville, Ga. and granddaughters Kelsey, Kennedy, and Kylee.
At Red's request, his body was donated for anatomical research. His choice to make a donation of his body is typical of his giving spirit. He knew organ and tissue donations might save a life, but to donate his earthly vessel might allow a medical student to learn a new technique to save a future patient's life. And besides, he was very aware that his new body in heaven would serve for eternity!
In lieu of flowers, donations may be made to:

Woodlawn United Methodist Church
207 N. Alf Coleman
Panama Cit Beach FL 32407

Emerald Coast Hospice
421 Oak St
Panama City FL 32401
Published in Panama City News Herald on August 10, 2018