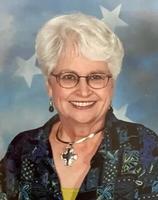 Kernersville, NC - Sybil Davis Carter, 84, died peacefully on April 30, 2022, surrounded by her loved ones in Kernersville, North Carolina.
Sybil was born in Montgomery, Alabama to OJ and Mary Sue Davis on July 25, 1937. She graduated from Sidney Lanier High School and then studied at Troy University. Her passion for teaching led her to earn several degrees from Auburn University at Montgomery. She loved working with children and teaching them to read. She taught many students in the Montgomery County Public School System and enjoyed being a part of the education profession.
She loved her daughters, Amy (Dave) Reid and Julie Carter, with her whole heart. She was a loving mother and diligent prayer warrior for them throughout her life. Her greatest joy was her only granddaughter, Erin Elisabeth Reid. She was a wonderful grandmother, "Nonna," to Erin. She left many wonderful memories of her vibrant personality with her family, which they will cherish forever.
Sybil was a friend to many and was fortunate to have lifelong friends from her childhood. They shared many of life's ups and downs through the years and were a constant support for her. She was a member of the Berean Sunday School Class at Trinity Presbyterian and they were faithful to connect with her even after she moved to North Carolina as her health declined.
Most importantly, Sybil would want everyone to know that she loved the Lord her God with her whole heart. Her parents raised her in a Christian home and her faith was always a constant for her. She was a member of Capitol Heights Baptist Church for many years and then was a devoted member of Trinity Presbyterian Church since 1988. She grew in her faith tremendously during those years.
Sybil is preceded in death by parents, OJ and Mary Sue Davis, brother Donald G. Davis, and daughter Julie Carter. She is survived by her daughter Amy (Dave) Reid and granddaughter Erin Reid and many nieces and nephews.
A memorial service will be held Saturday, May 14th, in the

Westminster Room
Trinity Presbyterian Church
1728 S Hull Street
Montgomery AL

Visitation will be at 1:00 PM, and the service will follow at 2:00 PM.
The family would be honored if you choose to remember Mother with a gift to the Trinity Presbyterian Building Fund, in lieu of flowers.
Posted online on May 09, 2022
Published in Montgomery Advertiser