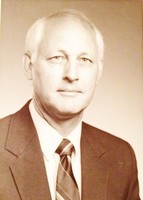 Gerald Eugene "Gene" Carter, 78, passed away in his home after a brief battle with cancer and Alzheimer's in Auburn, Alabama on December 21, 2015. Gene was born on October 4, 1937 to Frances Anne Turnipseed Carter Brunson and John Boyd Carter in Montgomery, Alabama. He married Mary Eloise Hall Carter of Montgomery, Alabama on June 6, 1959.
In 1955 Gene graduated from Sidney Lanier High School, Montgomery, Alabama. Gene graduated from Auburn University in 1960. He studied Interior Design and was a member of the Auburn University Track and Field Team. Under the leadership of Coach Wilbur Hutsell and Coach Mel Rosen, Gene was a lettered as a pole vaulter, high jumper and cross country runner.
Upon graduation Gene and Eloise moved to New Orleans for one year before Gene pursued his dream of serving Christ through the Baptist Sunday School Board (Lifeway) in the Church Architecture Department as a Church Interior Designer in Nashville, Tennessee. His service with the BSSB for 31½ years was traveling to churches across the country to help them design and renovate their sanctuary and worship space.
Gene, Eloise and children resided in Mt. Juliet, Tennessee, where they were active members of Green Hill Baptist Church and later First Baptist Church Nashville. The last 2 years of his service with Broadman Sales Department of the BSSB while Gene and Eloise lived in Mobile, Alabama. While living in Mobile, they were active members of Spring Hill Baptist Church.
Upon retiring from the BSSB, Gene and Eloise relocated to the Loveliest Village on the Plains in Auburn, Alabama. While living in Auburn, Gene continued to serve as a church interior designer and consultant for Church Interiors of High Point, NC. During their years in Auburn, they were active members and enjoyed worshiping at First Baptist Auburn and Auburn United Methodist Church.
Throughout all of Gene's professional experiences he has loved and valued each person he has met. Some of his fondest memories were serving others by being the hands and feet of Christ doing missions work abroad and locally. However, his greatest joys and memories are those that he shared with his family.
Gene is survived by his wife of 56 years, Eloise Carter, his mother Frances Brunson of Mobile, Alabama and his brother, William Thomas Carter of Mobile.
Gene is also survived by his children: Larry Mark Carter (Rhonda), Mt. Juliet, TN, Joel Hall Carter (Tamara), Phenix City, AL and Teri Lynn Carter Crum (Ed), Auburn, AL; 9 grandchildren; 3 great-grandchildren, and an abundance of nephews, nieces, cousins, and friends.
Gene was preceded in death by his father John Boyd Carter, father-in-law Arturo Oliveta "A.O." Hall, mother-in-law Mary Sybil Hudson Hall, sister-in-law Patsy Pritchett Carter and Joseph Graham Brunson who was a remarkable father of 54 years who modeled how to be an impeccable Christian husband, father and grandfather to two young boys.
A service of celebration will be hosted at 2:00pm on December 23, 2015 at Auburn United Methodist Church. Visitation will be held in Hamill Court at AUMC beginning at 12 noon until the service hour at 2:00pm.
Words cannot adequately express how much his family will miss Gene. We will cherish the legacy and the love he has for the Lord Jesus Christ which he has passed on to us. We extend the most gracious of thank you's to each of you which touched his life during his journey with us.
Jeffcoat-Trant Funeral Home is directing.
Memorial donations may be made to:
Hospice Advantage EAMC
665 Opelika Road, Suite 200
Auburn, AL 36830
Auburn United Methodist Church
P.O. Box 3135
Auburn, AL 36831
-- AUMC.NET For Missions
-- American Cancer Society
-- Alzheimer's Association
Published in the Montgomery Advertiser on Dec. 22, 2015.