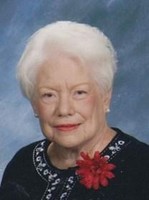 Dorothy Ann Sublette Drablos, 79, went home to be with the Lord on Sunday, October 4, 2015.
Dorothy, also known as Dot, was born in Montgomery, attended Sidney Lanier High School and has lived in several locations throughout the U.S. before her husband Don retired from the US Air Force. She and Don have lived in Lynchburg, VA for the last two years.
She is survived by her loving husband of 52 years, Donald Sam Drablos; her two sons, David Lance Drablos (Gaynor), Forest, VA, Douglas Trent Drablos (Shelly), Austin, TX; her seven grandchildren that she cherished: Joshua Lance Drablos (Josh), Pensacola, FL, Katherine Gaynor Drablos, Lynchburg, VA, Jonathan Lewis Drablos(Jon), Annapolis, MD, Anne Marie Drablos, Lynchburg, VA, Samuel Dean Drablos(Sam), Benson Jacob Drablos(Ben), and Ella Anne Drablos(Ella), all of Austin, TX, and her brother, Doctor Roy Newton Sublette (Jean), Montgomery, AL.
Dot was a longtime member of Frazier United Methodist Church and loved singing in the church choir. Dot's family will sorely miss her but are comforted in knowing that she most assuredly is in the presence of Christ.
A Celebration of Life Service will be held at Frazier Methodist Church on Monday, October, 12, at 10:00 a.m. Burial will follow in Alabama Heritage Cemetery. Visitation will be held at the church one hour prior to the service.
For online condolences please visit www.alabamaheritagefh.com.
Published in the MontgomeryAdvertiser.com on Oct. 10, 2015.