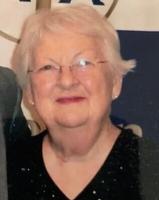 Margaret Carolyn Parks Carlson was born in Dothan, Alabama on October 31st in 1935. She was the only child of Ed and Ruby Parks. Margaret passed away peacefully on March 29, 2021. She is preceded in death by her parents.
She is survived by her loving husband of 65 years, Carl Carlson, and their children: Rose Marie Johnson of Phenix City, Alabama, Eddie Carlson (Ruthie)of Grady, Alabama, and Janice Sarmiento (Steve) of Cypress, Texas. She will be missed by her loving grandchildren: Constance Johnson, Matthew Johnson (Alyssa), Sarah Catherine Johnson, Mary Cam Shaw (Zack), Towns Tortorici (Michael), Luke (Mary Halley) Carlson, Fox Carlson, and Katie Gray Cox (Tanner), Zack Sarmiento (Miranda), Peyton Sarmiento, Gabi Sarmiento, and Justin Sarmiento, and great-grandchildren: Matthew Jr and Wesley Johnson, Mary Louise and Lucy Reid Shaw, Margaret Fox Tortorici and Luke Jr and Ben Carlson.
She graduated from Sidney Lanier High School and was a 1971 graduate of Huntingdon College Magma Cum Laude with a degree in Elementary Education. She loved music, played the piano and violin, gardening, reading, but most of all she treasured her family and her faith.
Visitation will be at 10:30 AM and a Celebration of Life at 11:00 AM at St. Paul Lutheran Church in Montgomery, Alabama on Saturday, April 3rd. Graveside service will follow at Greenwood Cemetery.
Our family would like to give special thanks to Dr. Bill Saliski, Dr. Raghu Mukkamala, Emma Powell, Jenny Blackburn, Reverend McKinney, Ivy Creek staff, and Polly Bester.
In lieu of flowers, memorials may be made to St. Paul Lutheran Church, Montgomery, Alabama.
Online Guest Book available at www.gassettfuneralhome.net.
Published in Montgomery Advertiser from April 1 to April 2, 2021.