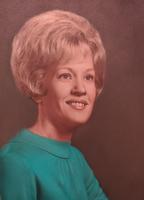 Mrs. Mary Kent Holman, 84, who resided in Montgomery, Alabama, went home to be with her Lord and Savior, Jesus Christ, on Tuesday, April 21, 2020, at her home.
Mary was preceded in death by her husband Wayne and all her brother and sisters. She is survived by her daughters Tina Simpson (David) and Traci Weafer (Fred), and grandchildren Christopher (Emily), Emily (Matt), Rachel (Brad), Anakatherine (Ben), Riley, Rebecca, Jake, And John.
Mrs. Holman was a member of Eastern Hills Baptist and was loved by many. She loved spending time with her grandchildren. All who knew her enjoyed her sweet and giving spirit.
A Celebration of Life graveside service will be for the family at Montgomery Memorial Cemetery at 3001 Simmons Drive, Montgomery, Alabama 36108. Pastor Stephen Nulph will be officiating.
Arrangements under the direction of White Chapel-Greenwood Funeral Home & Greenwood Serenity Memorial Gardens, Montgomery, Alabama
https://www.dignitymemorial.com/obituaries/montgomery-al/mary-holman-9145522