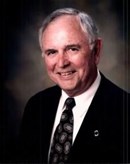 Edward Lewis Godbold, Sr. age 81 died peacefully at his home in Montgomery, Alabama on August 24, 2017, surrounded by his family. He was preceded in death by his parents Lewis Henry Godbold and Mary Evelyn Pilcher Godbold, and his brother, David Mitchell Godbold all of Montgomery.
Mr. Godbold is survived by his wife of sixty years, Mary Eleanor Williams; four children Edward Lewis Godbold, Jr. (Tammy), Michael William Godbold, Laura Godbold Dennis (Billy) and Lynn Godbold Molnar (Troy); seven grandchildren Calley Godbold Middlebrooks (Joey), William Preston Ferguson, Edward Lewis Godbold, III, William Andrew Dennis, Tyler Elija Ferguson (Victoria), Mary Hayden Dennis and Wesley Alan Dennis; five great grandchildren Lexi Kate and Reid Reguett, Marley Middlebrooks, Jacob Ferguson and Hallie Dennis; sister in law, Cynthia Judkins Godbold, brother in law, Hoyle B. Williams, Jr. (Betty) and many nieces, nephews and cousins.
Mr. Godbold graduated from Sidney Lanier High School in 1954 and Alabama Polytechnic Institute (Auburn University) in 1958. He was a civic and community leader spanning a business and military career of over 40 years.
Commissioned a Second Lieutenant, he served in the U.S. Army Reserve for thirty years retiring in 1988 as Chief of Staff of the 121st Army Reserve Command with the rank of Colonel. He was a graduate of the U.S. Army Command and Staff College and upon retirement was awarded The Legion of Merit. He rose through the ranks of management with Alabama Gas Corporation serving in Fairfield, Bessemer, Birmingham, Anniston, Tuscaloosa and retiring after 39 years of service as Division Manager in Montgomery Alabama.
He was active in many community and civic organizations and held a number of leadership positions including President of the Montgomery Credit Association, President of the Anniston Credit Association, President of both the Bessemer Jaycees and Anniston Kiwanis Clubs and was Campaign Chairman and President of the Tuscaloosa United Way. He was a member of the Chamber of Commerce of Tuscaloosa West Alabama where he was 1995 Chamber Member of the Year. Other organizations in which he dedicated his time included the Montgomery Kiwanis, Jaycees and Rotary Clubs, the Committee of 100, The Wright Fliers and the Montgomery Area Chamber of Commerce.
Mr. Godbold was very proud of his family and enjoyed his retirement years tracing his family's history; he was a published author of several books on geneology. Mr. Godbold was a faithful member of Aldersgate United Methodist Church.
Services will be officiated by Dr. Brian Miller, Senior Minister at Aldersgate UMC at Leak Memory Chapel on Tuesday, August 29, 2017 at 2 pm. The family will receive visitors prior to the service beginning at 1:00 pm.
Pallbearers include the five grandsons and Joseph B. Middlebrooks, III.
Honary pallbearers are members of the Pathfinder's Sunday School Class.
The family would like to acknowledge the special care given by Dr. Donald A. Marshall, caregivers Cherry Harris and SeGail Weatherington and Comfort Care Hospice.
In lieu of flowers, the family asks that you give a memorial to the Aldersgate United Methodist Church or to a charity of your choice
.
Published in The Birmingham News on Aug. 27, 2017.