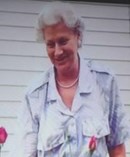 Ima Jean Hall died Friday, May 13, 2016, a long time resident of Alabama. She is preceded in death by her husband; Billie E. Hall, her parents; Worth & Eunice Byrd and her sister; Christine Brown. She is survived by her children; Barbara Haynes (Jeffrey) and Mike Hall (Sheryl); 6 grandchildren and 4 great grandchildren and many friends.
She grew up in Montgomery and retired from Regions Bank after many years of serving her customers. In retirement, she focused her attention on her two favorite passions: roses and her grandchildren.
Visitation for Ima Jean Hall is set for Thursday, 2:00pm at White Chapel-Greenwood Funeral Home. Visitation will be followed by a memorial celebration at 3:00 pm with graveside to follow at Greenwood Cemetery.
Published in the Montgomery Advertiser on May 19, 2016.