Katherine Browder Barkley, 77, a lifelong Montgomery resident, went to be with her Lord and Savior Jesus Christ on April 28, surrounded by her family at Merry Wood Lodge, after a 14 year battle with Alzheimer's.
Kathy was a strong woman of God who loved her family and was active in her church. She was a talented painter, pianist, and seamstress; a gifted athlete who loved swimming, bowling, roller skating, tennis and water skiing; and an avid traveler. She enjoyed reading, doing crossword puzzles and helping others.
She was preceded in death by her parents, Vergie and Lois Browder, and her brother, Buddy Browder.
She is survived by her husband of 58 years, Tony Barkley; her children, Julie Browning and her husband Dale, of Wetumpka; Mel Barkley and his wife Jane, of Montgomery; Toni Beth Vines and her husband Jay, of Pensacola, Florida; and Mark Barkley and his wife Carolyn, of Hoover; grandson, Adam Barkley, his wife Vicky and their children Alexis and Morgan Fray and Addyson; grandson, Justin Barkley, his wife Melissa and their children Owen, Willow and Josie; grandson, Drew Barkley, his wife Ashleigh and their daughter Margaret Leigh; grandsons, Nicolas Martin and Reese Vines; granddaughter, Rachel Archer, her husband Chandler and son Jackson; granddaughter, Erin Ryser and her husband Joe; granddaughters, Kadee Vines, Dr. Jordin Barkley and Emily Martin; her sisters, Mary Glenn Cocergine, of Sparks, Nevada, and Tina McInnis, of Montgomery; and her brother, Charles Browder, of Cecil.
The family will receive visitors Tuesday night, April 30, from 5:00 p.m. until 7:00 p.m., at Alabama Heritage Funeral Home. The funeral service will be Wednesday, May 1, at 2:00 p.m., also at Alabama Heritage Funeral Home, with Rev. Walter Albritton officiating.
Pallbearers will be her grandsons and Clint Browning, Chandler Archer and John Larry McDougal.
Condolences may be offered at www.alabamaheritagefh.com.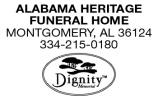 Published in the Montgomery Advertiser from April 30 to May 1, 2013