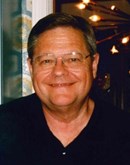 Edward Gachet "Buddy" Branch III, 81 went home to be with the Lord on January 2, 2018. Buddy was born in Montgomery, Alabama on December 17, 1936, to Edward Gachet Branch, Jr and Mary Alice McGehee Howell both of whom preceded him in death. He was also preceded in death by his loving wife of 33 years, Dorothy Edney Branch, and his beloved grandmother Georgia McDonald McGehee.
He is survived by his children, James G. Branch (Kathleen), Ellen Branch Middlemas (Warren), Amelie Branch, and Powell Branch. His sisters, Anne Lavinia Carter, and Georgia Davis (Preston). Grandchildren Amelie Middlemas, Lott Middlemas, Alexandra Middlemas, Lindsey Gilbert, Lauren Backus, Isaac Branch, and two great-grandchildren, Greyson and Jack. Buddy also leaves behind lifelong friends Joe Wright, Randy Thomas, Bill Marks and Tom Bridges.
After graduating from Sidney Lanier High School in 1955, Buddy entered the Forestry program at Auburn University where he was a member of the Alpha Tau Omega fraternity. Upon graduation from Auburn in 1959 he went to work for the Alabama State Forestry Commission in the field of forest management. While working as a forester Buddy attended the Jones School of Law in Montgomery where he earned his law degree. Eventually, he went to work at the state capital in the Legislative Reference Services office where he was instrumental in drafting many laws for the legislature.
Buddy was a faithful Christian and Gideon by faith. He and his wife Dottie were frequent visitors to many churches in the Montgomery area. Also, while living in Hope Hull, Alabama, he served on the board of the Hope Hull United Methodist Church. He was also a past member of the Capital City Kiwanis Club and served on the board of Hooper Academy in Hope Hull.
Buddy was an avid outdoorsman and his passions included wing shooting and fishing with his sons, cattle farming and tending his vegetable garden.
Serving as pallbearers are Powell Branch, Warren Middlemas, Lott Middlemas, John Shiver, Eric Crouch, and Scott Tomlinson.
Funeral services will begin 11:00 A.M., Monday, January 8, 2018, at White Chapel-Greenwood Funeral Home in Montgomery, AL, with Rev. Walter Albritton officiating. The family will receive friends beginning 10:30 A.M. prior to the service. Interment will follow at Greenwood Serenity Memorial Gardens.
In Lieu of flowers please make donations to:

Live Like Drew Foundation
P.O. Box 1641
Lynn Haven FL 32444
Published in the Montgomery Advertiser from January 6 to January 7, 2018