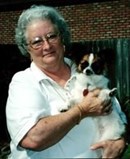 Mrs. Leanne Rutland Hawk Roos, 81, who resided in Montgomery, Alabama, passed away peacefully at the home of her son, Leon Hawk.
Mrs. Roos is survived by her two daughters, Roxanne Holland (Chuck Holland) and Vivian Corley and her two sons, Leon Hawk (Grace Hawk) and Mike Hawk (Teresa Hawk), her grandchildren, Anna Land, Leah Sawyer, Ben Hawk, Elizabeth Hawk, Clay Corley and six great-grandchildren.
A visitation will be held on Tuesday, September 20, 2016 in the chapel of White Chapel-Greenwood Funeral Home from 5:00pm-7:00pm., with a private burial for immediate family only on Wednesday, September 21, 2016 at 10:00am in Greenwood Cemetery.
Mrs. Roos was intelligent, creative, and talented. She loved gardening, old blues artist and science fiction. She was a gifted quilter, weaver, and knitter; a seeker of knowledge, an avid reader, a loyal friend and a wonderful mother.
Her gentle, sweet personality paired with immense sense and iron determination made her a truly remarkable person. She had the softest hands, gave the best advice, and showed more patience than a saint. She often volunteered to spin at Old Alabama Town and taught children the art of spinning, weaving and knitting.
Mrs. Roos exhibited at the Highland games and won blue ribbons for her quilting at the State Fair. She raised orchids, tropical fish and 4 rambunctious children.
In lieu of flowers, send donations to the Montgomery Public Library, Hospice of Montgomery or The Sunshine Center.
Words of condolences can be made by going to www.whitechapel-greenwoodfh.com.
Published in the Montgomery Advertiser on Sept. 20, 2016.