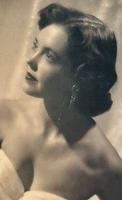 Suanne Reid Jackson left this life as she lived it, with grace and dignity. She was born January 25, 1935, in Montgomery, Alabama, the only child of Janet Wilson Paterson and Thomas Beale Reid. Suanne loved Montgomery and had a strong family legacy there. Her great-grandfather, William Burns Paterson, founded Alabama State University and her family founded Rosemont Gardens in Montgomery.
Suanne was a rare beauty, even as a child, and had the gift of making everyone feel special. She also had a wonderful sense of humor, loved sharing a good laugh, and was adored by all who had the chance to know her.
Suanne attended Forest Avenue Elementary and Sidney Lanier High School in Montgomery. She went on to attend the University of Alabama, where she was named "Miss Alabama of the University" and was a member of the Kappa Delta sorority.
Suanne married the love of her life, Craig Lee Jackson, a fighter pilot and a Colonel in the United States Air Force. They were blessed with a daughter, Janet Reid Jackson. Suanne and Janet shared a special bond and spent cherished time together, whether taking a trip or just having lunch and a glass of wine. Suanne adored her two grandsons, Reid and Craig, who referred to her affectionately as "Suzie Q" or "The Q" (for "the Queen").
Suanne had a strong faith and was a lifelong member of Trinity Presbyterian Church in Montgomery, where she taught children's Sunday school for 35 years. Suanne was known to the children as the "Candy Lady" because she always brought sweets to share. She showed great kindness to her family and friends near and far by always remembering birthdays and anniversaries with greeting cards.
She is survived by her daughter, Janet Jackson Hogg (Tom) of Richmond, Va.; and her grandsons, Thomas Reid Peacock (Harriet) of Birmingham, Ala. and Craig Hansel Peacock of Washington, D.C.
The family is especially grateful to the caregivers at Sunrise Assisted Living and James River Hospice for their love and compassion during Suanne's final years.
A graveside service for family will be held at 12 p.m. Wednesday, June 9 in Greenwood Cemetery. A celebration of her life and resurrection will be held at 1 p.m. on June 9, 2021, at Trinity Presbyterian with a reception to follow at Montgomery Country Club. In lieu of flowers, please make a donation in Suanne's memory to the American Diabetes Foundation or your favorite charity.
Published by Richmond Times-Dispatch on May 30, 2021.