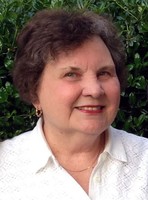 Mrs. Jane Redden Newell, age 82 of Montgomery AL, passed away on Friday, May 25, 2018. She was born on October 13, 1935, to the late Merritt V. and Gladys Norsworthy Redden. She graduated from Lanier High School in 1953 before attending the University of Montevallo and Huntington College.
Jane is survived by her husband of 63 years, Ted Smith Newell, children Kay Newell, Amy Newell and David Newell (Lynn), grandchildren Kathleen Pridgen (Brad Bennett), Max Pridgen, Jordan Newell and Austin Newell, and great-grandchildren Dorothy Bennett and Thomas Bennett.
Jane was a devoted and loving wife, mother, and grandmother, an excellent cook and homemaker, and a talented artist and seamstress. She loved animals and wanted all living creatures to be treated with kindness and respect. She leaves behind numerous family and close friends and will be remembered as a gentle, caring and compassionate soul to all those who knew and loved her.
Visitation will be held Thursday, May 31st from 1-2 pm followed by a brief service at Leak Memory Chapel and burial at Greenwood Cemetery.
The family asks that in lieu of flowers, donations be made to:

Humane Society of Elmore County at www.elmorehumane.org
St. James United Methodist Church building fund.
Online condolences may be made at www.LEAK-MC.com.